Translate this page into:

doi:
10.4103/2321-1407.139495
Laser therapy for faster orthodontic tooth movement
Department of Orthodontics and Dentofacial Orthopaedics, Government Dental College and Hospital

,

Nagpur, Maharashtra

,

India
Address for Correspondence: Dr. Wasundhara A. Bhad-Patil, Department of Orthodontics and Dentofacial Orthopaedics, Government Dental College and Hospital, Nagpur, Maharashtra, India. E-mail: wasundharabhad@gmail.com
Disclaimer:
This article was originally published by Wolters Kluwer and was migrated to Scientific Scholar after the change of Publisher.
Abstract
One of the major component of patient to reject orthodontic treatment is the long duration of treatment. If Low intensity laser therapy can promote wound healing by increased cell proliferation and improved micro circulation can bring about faster bone remodelling at fracture sites; then why not to use it with orthodontic forces for better results? Soft tissue laser has now become a part of essential equipment of modern dental clinics. To accelerate the physiologic tooth movement during orthodontic treatment a thorough knowledge of laser unit, mode of action and key factors to gain therapeutic effect is a must which this article illustrates. Study carried out by us did show a 30% reduction in the treatment time.
Keywords
LILT
OTM
biostimulation
INTRODUCTION
One of the major concerns to the orthodontic patients is treatment time and second is pain or discomfort. Reducing the treatment time requires increasing the rate of physiologic tooth movement. Many methods have been used in the past to accelerate the orthodontic tooth movement as electric and magnetic stimulation,[1] drug injections of parathyroid hormone, misoprostol (prostaglandin E1 analog), prostaglandin E2 (PGE2).[2,3]
Although these substances stimulate the rate of tooth movement, they also have an undesirable side effects of local pain and discomfort during the injections. Recently, electric stimulation and resonance vibration[4] have been tried in animals, but these methods require an apparatus that is not routinely used in dental practice. To reduce pain during treatment often analgesics are advised. But studies have shown that analgesics inhibit prostaglandins, which in turn slows down the tooth movement.[5]
PROCEDURE
Low intensity laser therapy for analgesic: Two irradiations are done. One irradiation on middle one-third of the canine root on the buccal side and the second on the palatal side holding the laser tip in direct contact with the tissue.
Low intensity laser therapy for biostimulation during OTM: The total of 10 irradiations are done — five on the buccal side and five on the palatal side in order to cover the entire periodontal fibers and alveolar process [Figure 4]. Manual settings of the laser unit shown in Table 2.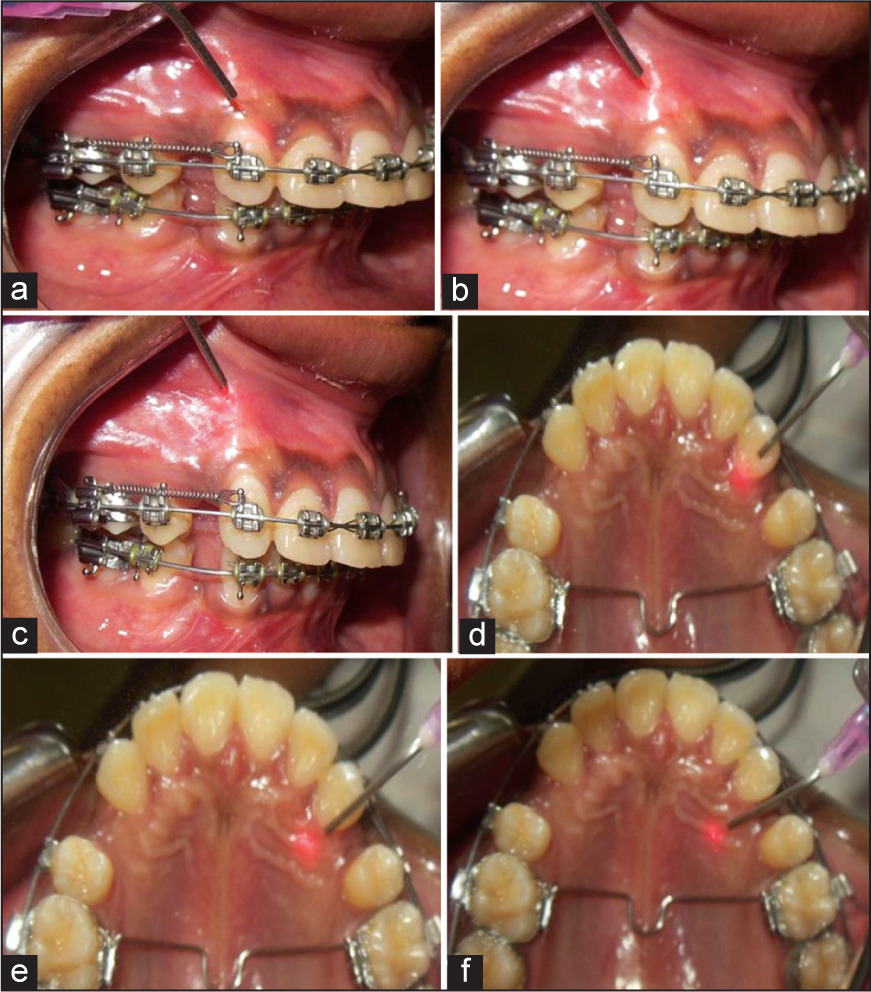 For analgesic purpose, settings adjusted to
For biostimulation, the parameters set at
World Association of Laser Therapy has laid down standards to carry out study on laser therapy.
LOW INTENSITY LASER THERAPY-MODE OF ACTION
Laser therapy can best be described through its parameters. The core parameters include:
Laser's wavelength: A laser exists at a specific wavelength, determined by the medium through which energy is pumped to create light.

Modality of application: Laser therapy can be delivered in continuous or interrupted emission modes which is further divided into gated pulsed and free-running pulsed mode.

Power output: Lasers are most easily characterized by the amount of energy they produce, called power output.

Application dose: Application dose measures the amount of energy applied at any one given treatment and is measured in Joules (J).

Treatment dose: The treatment dose, or total energy dose, is an additive value combining the energy delivered over the entire length of treatment.

Energy density: Energy density is a measure indicating the amount of energy received by a given tissue.

Power density: Power density measures the amount of power per unit area leaving the laser applicator or tip.
CONCLUSION
Low-intensity laser therapy increases the rate of OTM in a physiologic manner. It causes no side effects on the vitality or the periodontium of the teeth. Thus, it can safely and routinely be used during orthodontic treatment to shorten the treatment time. Low-intensity laser therapy also is an effective method of analgesia during orthodontic treatment or to relieve from pain immediately after placement of separators.
The Food and Drug Administration does not specify absolute contraindications for the use of LILT. However, individuals have postulated various scenarios in which the therapy should not be used until further research is conducted. One of these is in areas of malignancies or possible malignancies, since most research indicates lasers have a biostimulatory effect.
CLINICAL APPLICATIONS
Low-intensity laser therapy can be used for differential movement of teeth.

In cases of midline shift, it can be used to stimulate OTM on the opposite side.

Application of low-intensity laser therapy only on teeth to be moved conserves the anchorage. Because low-intensity laser therapy stimulates tooth movement by altering the biologic response and not by increasing forces or changing mechanics, it does not tax the anchorage.

A few studies have reported a decreased rate of tooth movement in adult patients due to decreased vascularity and cellularity of bone.
With increasing number of adult patients in orthodontic practices, low-intensity laser therapy will be beneficial in adult because it increases the vascularity and cellularity of bone.
FUTURE SCOPE AND RESEARCH
Further studies are required to study the efficacy of LILT during comprehensive orthodontic treatment for reducing the treatment time. and effect of LILT on periodontal tissue remodeling during relapse and retention of orthodontically moved teeth.
Conflict of Interest:
None declared.
Show Sections