Translate this page into:

doi:
10.4103/2321-1407.163414
The Benefit System and its scope in contemporary orthodontic protocols
Department of Orthodontics, University of Duesseldorf

,

Moorenstr 5, 40225 Düssedorf

,

Germany
Address for correspondence: Dr. Benedict Wilmes, Department of Orthodontics, University of Duesseldorf, Moorestr 5, 40225 Düssedorf, Germany. E-mail: wilmes@med.uni-duesseldorf.de
Licence
This is an open-access article distributed under the terms of the Creative Commons Attribution-Non Commercial-Share Alike 3.0 License, which allows others to remix, tweak, and build upon the work non-commercially, as long as the author is credited and the new creations are licensed under the identical terms.
Disclaimer:
This article was originally published by Wolters Kluwer and was migrated to Scientific Scholar after the change of Publisher; therefore Scientific Scholar has no control over the quality or content of this article.
How to cite this article: Wilmes B, Willmann J, Stocker B, Drescher D. The Benefit System and its scope in contemporary orthodontic protocols. APOS Trends Orthod 2015;5:174-80.
Abstract
Currently, the alveolar process is the most preferred insertion site for orthodontic mini-implants. However, due to the varying bone quality and the risk of root contact, the survival rate of implants inserted in the alveolar ridge still needs improvement. Other regions, such as the anterior palate and the mental region provide much better conditions for temporary anchorage device (TAD) insertion since the amount and quality of the available bone are far superior. Mini-implants with different types of abutments and connectors allow the construction of versatile and cost efficient appliances for a large variety of orthopedic and orthodontic applications. Utilizing TAD's in the anterior palate and the mental region eliminates the risk of root injury and takes the implants out of the path of tooth movement. The design of the interchangeable abutment system provides the orthodontist with a skeletal anchorage system that integrates easily into clinical practice and allows treatment of cases that were difficult or impossible to treat previously.
Keywords
Class III treatment
distalization
mini-implant
skeletal anchorage
temporary anchorage device
INTRODUCTION
Mini-implants have become a common treatment modality in orthodontics due to their versatility, minimal invasiveness, and cost effectiveness. Still, today, the alveolar process is the most preferred insertion site.[1-5] However, due to varying bone and soft tissue conditions, orthodontists are still confronted with an average loss rate of 16.1%, as reported in recent literature.[6-9]
To enhance success rates five strategies were developed:
Selection of the optimum insertion site.

Avoidance of root contact. 3. Getting out of the path of tooth movement.

Use of tandem implants and.

Use of implants with sufficient length and diameter.
Applying these strategies and choosing the anterior palate as insertion site loss rates could be decreased to values as low as 2.1%.[10]
Selection of the anterior palate in the upper jaw and miniplates in the lower jaw rendered the insertion of mini-implants in the alveolar ridges obsolete. Based on clinical examples and scientific evaluation, new solutions for a variety of treatment tasks such as molar distalization and mesialization, molar intrusion and extrusion, asymmetric space closure, midline correction, and anchorage of anterior and lateral dental segments are now available.
A new generation of mini-implants with interchangeable abutments (Benefit System, PSM, Germany[11]) was developed that allow integration into the orthodontic mechanics [Figure 1]. For very high demands on the anchorage quality, two mini-implants were used. To couple two mini-implants very easily, a Beneplate[12] (PSM, Germany, [Figure 1h]) is available in two different lengths. For connection to the orthodontic appliance, Beneplates with a stainless steel wire (1.1 mm or 0.8 mm) or a stainless steel bracket are employed. The Beneplate can be adapted to the Benefit mini-implants by bending of the miniplate body as well as the wire [Figure 2].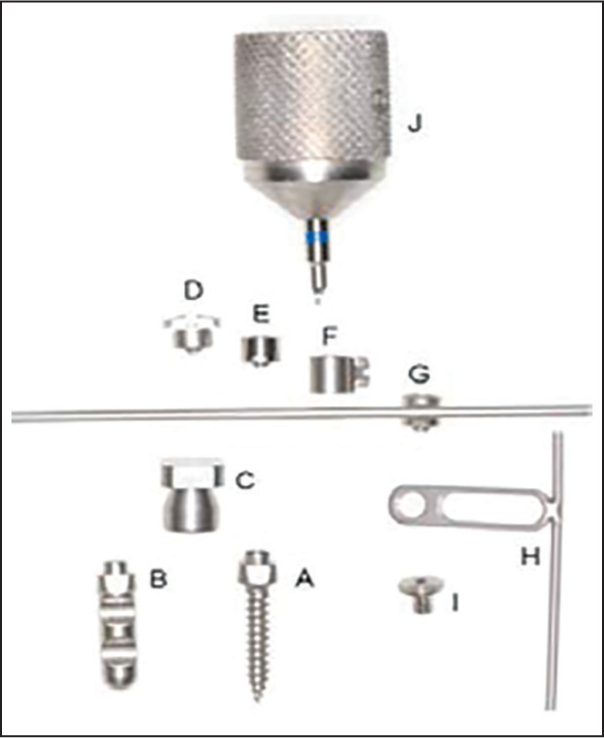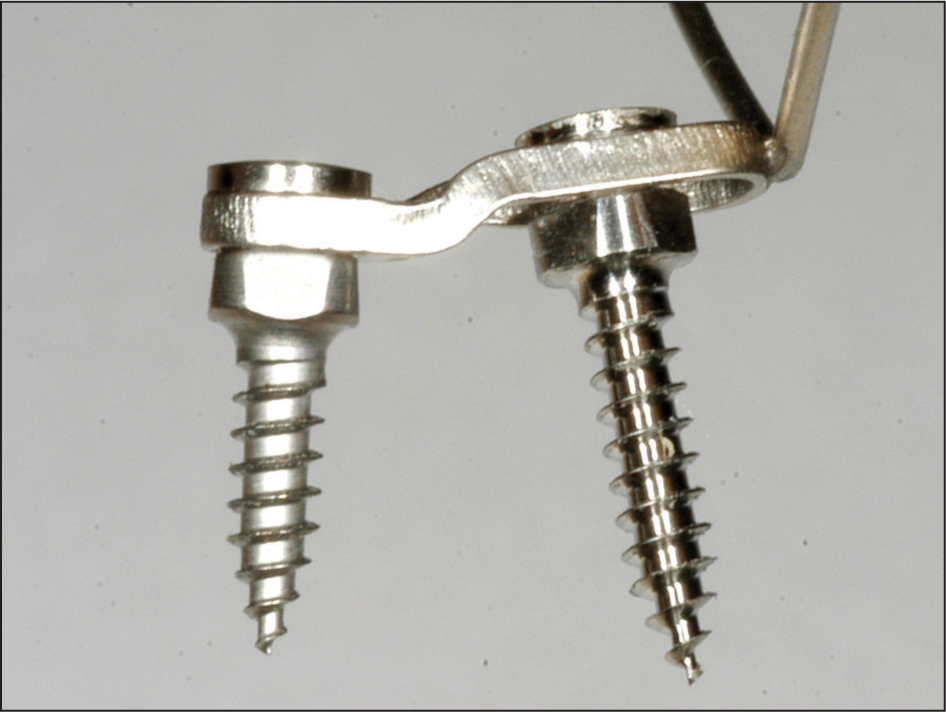 IMPLANT PLACEMENT AND ADAPTION OF THE MECHANICS
Due to a very good bone quality and quantity, the anterior palate is the favorite insertion site.[13] If the patient is apprehensive about the use of a needle syringe, the miniscrews can be placed using only topical anesthetic (jelly). In adult patients, a pilot drilling (2-3 mm depth) should be performed due to very high bone densities [Figure 3]. In children and adolescents with relatively low bone mineralization, pilot drilling is not needed. Mini-implants with a diameter of 2 mm or 2.3 mm and lengths of 9 mm (anterior) and 7 mm (posterior) are inserted, which provides the best stability [Figures 4-6].[14-17]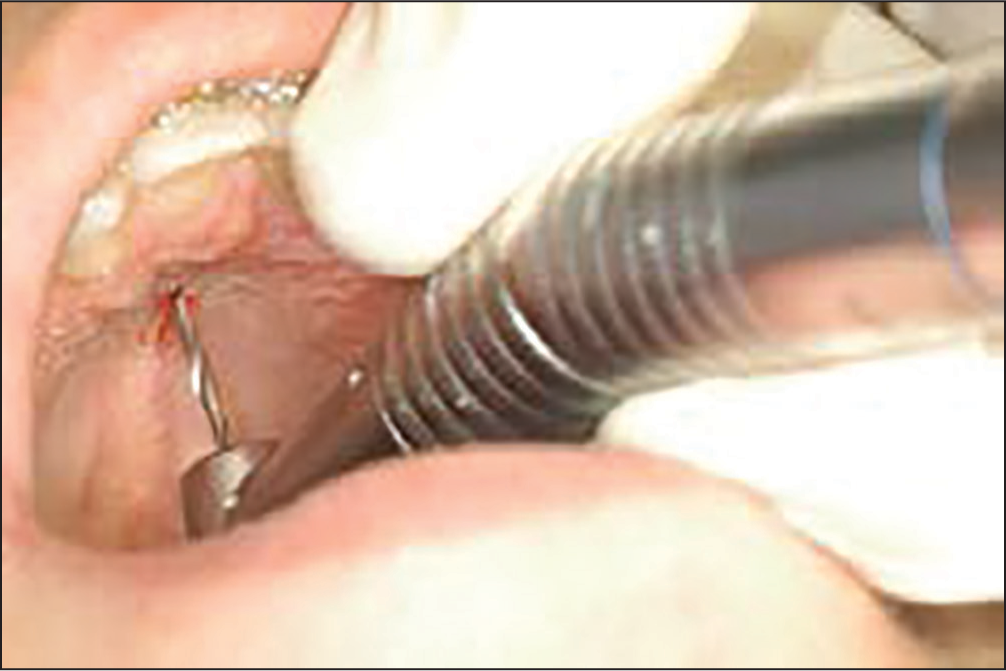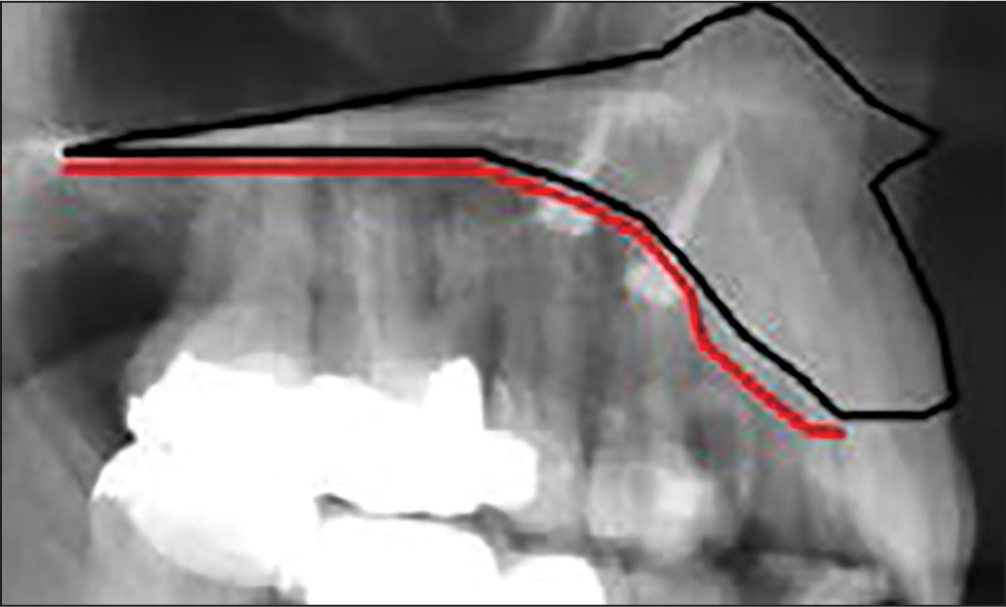 In many cases, the appliance could be adapted intra-orally, which, of course, implies some chair time [Figure 7a and b]. The alternative is to adapt the mechanics in the laboratory by taking a silicon impression and transferring the intra-oral setup to a plaster cast using the impression cap and the laboratory analogue from the Benefit System[11] [Figure 1b and c].
CONCLUSION
To summarize, the Benefit mini-implant in combination with the Beneplate expands skeletal anchorage options in orthodontic treatment and reduces the failure rate significantly. Insertion and removal are minimally invasive procedures: Orthodontists can place the screws by themselves and load them immediately. Usually, the screws can be removed without anesthesia. The anterior palate is our preferred insertion region because of its superior bone quality and relatively low rates of miniscrew instability and failure. The attached mucosa has a better prognosis than other areas, and there is no risk of tooth damage. In the mandible, miniplates such as Bollard plates or the Mentoplate are recommendable for orthopedic and orthodontic purposes.
Financial support and sponsorship
Nil.
Conflicts of interest
There are no conflicts of interest.
Show Sections