Translate this page into:

doi:
10.4103/apos.apos_95_17
Interdisciplinary Management of an Orthodontic Patient with Temporomandibular Disorder
Orthodontics and Prosthodontics, Faculty of Dentistry, The University of Hong Kong

,

Hong Kong SAR

,

People's Republic of China
Address for correspondence: Dr. Franklin Tsang Tsang She, Faculty of Dentistry, The University of Hong Kong, Hong Kong, China. E-mail: she@smileclinic.com.hk
Licence
This is an open access article distributed under the terms of the Creative Commons Attribution-Non Commercial-Share Alike 3.0 License, which allows others to remix, tweak, and build upon the work non-commercially, as long as the author is credited and the new creations are licensed under the identical terms.
Disclaimer:
This article was originally published by Wolters Kluwer and was migrated to Scientific Scholar after the change of Publisher.
Abstract
A 21-year-old female patient presented with temporomandibular disorder, skeletal Class II, Angle Class II division 2 malocclusion, gummy smile, and incomplete overbite was managed successfully by splint therapy and orthodontic camouflage with miniscrew anchorage and extraction. She was treated with occlusal splint to alleviate signs and symptoms of anterior disc displacement without reduction and the associated masticatory dysfunction and revealed the true malocclusion before orthodontic treatment. Computer software facilitated the formulation of visual treatment objective (VTO) and occlusogram which guided the whole arch intrusion, retraction of the upper anterior segment, mesialization of lower left dentition, and distalization of lower right dentition. In this case report, the rationale and importance of preorthodontic splint therapy and specific considerations in orthodontic mechanics for managing this patient were discussed.
Keywords
Miniscrew anchorage
orthodontic camouflage
splint therapy
temporomandibular disorder
whole arch intrusion
Introduction
There is a significant proportion of orthodontic patients presenting with temporomandibular disorder (TMD) prior to treatment.[1,2] Since the etiology of TMD is multifactorial, there is a lack of consensus on its management before the commencement of orthodontic treatment. Over the years, there are numerous investigations showing controversial findings on the influence of orthodontic treatment over the signs and symptoms of TMD.[3] Even though some studies have indicated that certain malocclusions might relate to TMD and there are some influences of orthodontic treatment on TMD patients,[4] significant scientific evidences have demonstrated negative correlation between orthodontic treatment and aggravation of TMD.[5] In many cases, orthodontists would therefore assume that TMD can be ignored and orthodontic treatment itself would improve the problem.[6]
In this case report, interdisciplinary management of prosthodontic and orthodontic approaches is described. The patient was treated with occlusal splint which eliminated the occlusal interferences in relation to the presence of TMD temporarily before orthodontic treatment. It relieved TMD signs and symptoms and revealed the true malocclusion at centric relation. Computer software formulated visual treatment objective (VTO) and occlusogram guided the orthodontic treatment. Skeletal Class II camouflage therapy with miniscrew anchorage was performed followed by occlusal equilibrium and direct composite buildups of peg-shaped lateral incisors. The collaboration of splint therapy, orthodontic treatment, and dental restorations improved function and esthetics of the dentofacial complex. In this case report, the rationale and importance of preorthodontic splint therapy, design and materials for occlusal splints, and specific considerations of orthodontic mechanics in managing patients with TMD were discussed.
Case Report
The patient was a 21-year-old female who requested orthodontic treatment from the first author with the chief complaint of crooked teeth. Extraoral examination revealed convex profile, protrusive maxilla, retrusive mandible, increased incisal exposure at rest, gummy smile, and chin deviation to the left side [Figure 1]. In sagittal dimension, she presented with Class II half unit molar and canine relationship with retroclined upper and lower incisors. Skeletal Class II base with protrusive maxillary dentoalveolar process and retrognathic mandible were recorded [Figures 2, 3 and Table 1]. In the vertical dimension, she presented with increased overbite due to increased curve of Spee and overeruption of upper incisors. There was incomplete overbite meaning that upper and lower incisors presented with vertical overlap without inter-occlusal contact. In the transverse dimension, the condylar head was resorbed on the left side with lower dental midline deviated to the same side [Figure 4]. Based on the history that the occlusion was stable over a few years and there was negative finding of rheumatoid and antinuclear factors on blood test, the left condyle lesion was suggestive of stable idiopathic condylar resorption. In addition, peg-shaped upper lateral incisors, impacted lower right third molar, and dental crowding were noted.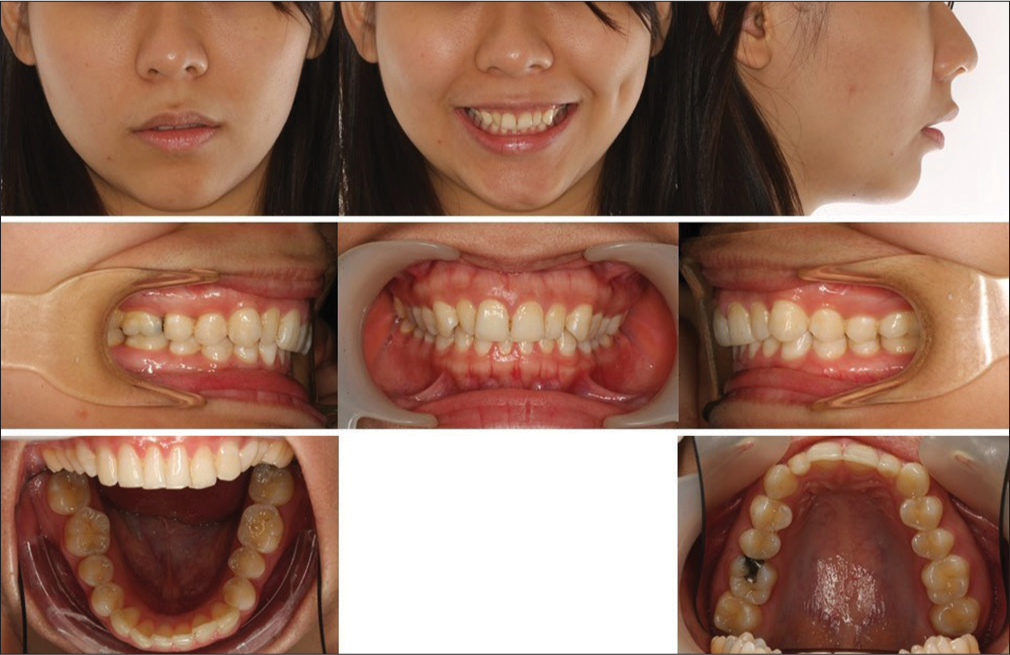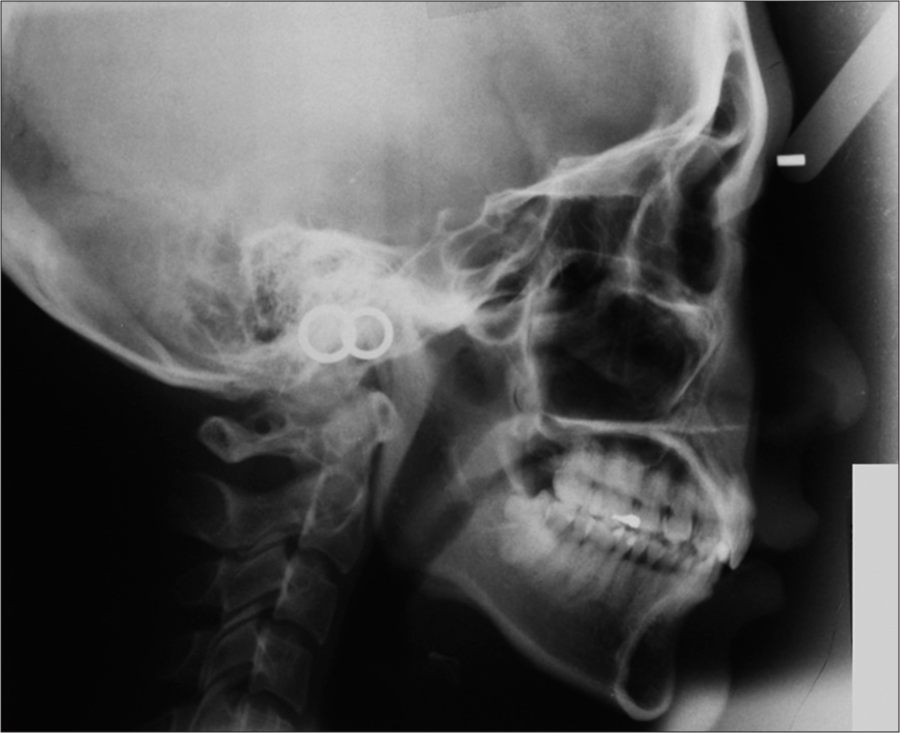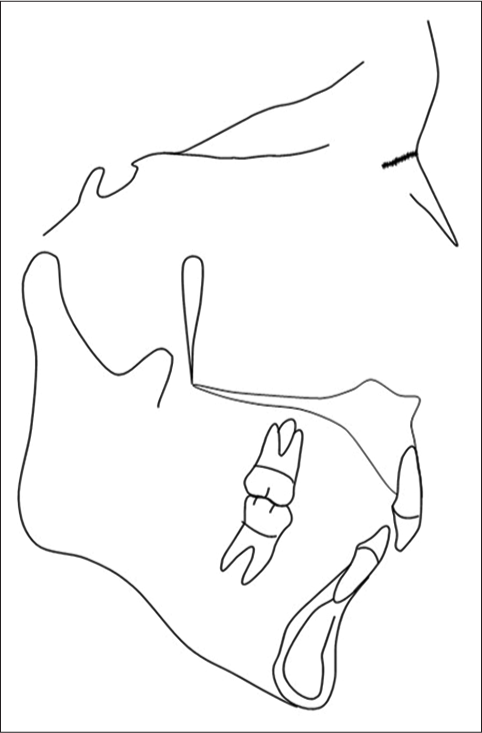 |   | Norm | Pre-tx | Post-tx | Difference |
| --- | --- | --- | --- | --- |
| SNA | 82°±3.5 | 85° | 83° | -2° |
| SNB | 79°±3 | 77° | 77° | ±0° |
| ANB | 3°±2 | *8° | *6° | -2° |
| Wits appraisal | -4.5±3 mm | **2 mm | *1 mm | -1 mm |
| Upper incisor to maxillary plane | 118°±6 | **82° | **101° | +19° |
| Lower incisor to mandibular plane | 97°±7 | 92° | 96° | +4° |
| SN to maxillary plane | 8°± 3 | 6° | 6° | ±0° |
| SN to mandibular plane | 34°±4.5 | 33° | 33° | ±0° |
| Lower facial proportion | 55% | 56% | 56% | ±0% |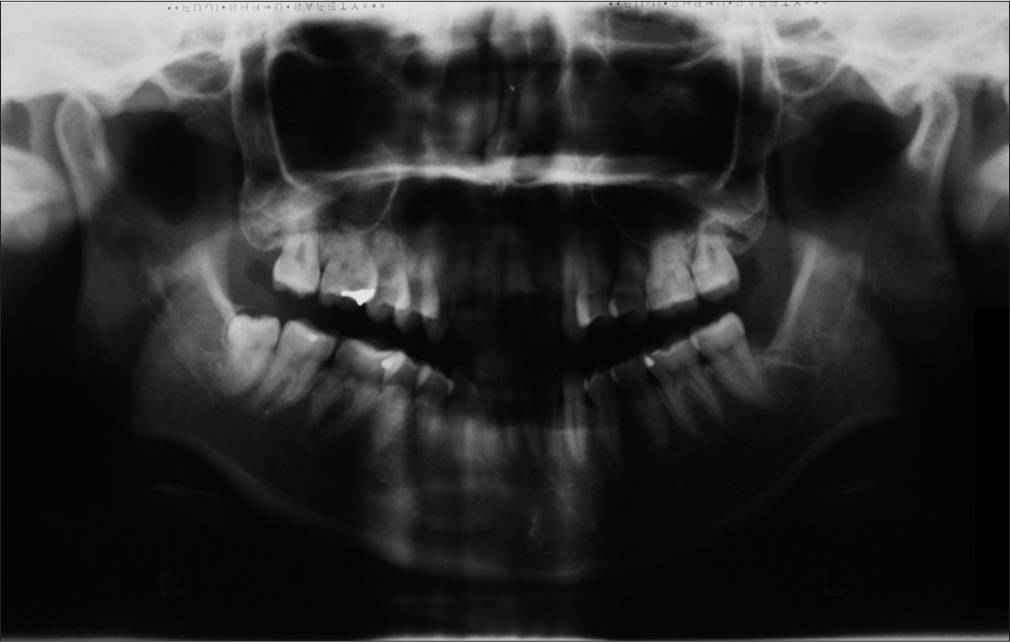 Temporomandibular joint (TMJ) examination revealed that the patient presented with discrepancy of centric occlusion and centric relation and restricted mouth opening. To eliminate the adverse effect of TMD and reveal the true malocclusion, she was then referred to the second author who is a prosthodontist for the management of TMD.
Discussion
Importance of temporomandibular disorder management before orthodontic treatment
Design and material of splint for the management of temporomandibular disorder
There are various designs of occlusal splints which are prescribed for eliminating signs and symptoms of masticatory dysfunction. Stabilization splint is the most common one which is an inter-occlusal device providing even occlusal contact to the opposing dentition. Another popular device is anterior repositioning splint which supports only anterior teeth occluding in protruded mandibular position. Compared to stabilization splint, anterior repositioning splint produces faster relief of signs and symptoms of internal derangement by recapturing the disc into the condylar fossa. However, it is recommended only for short-term usage as unwanted posterior openbite can occur over time. Stabilization splint demonstrated excellent response in clinical studies with complete recovery of internal derangement in many subjects.[16,30] Additionally, it seems to be more effective than anterior repositioning splint in internal derangement patients specifically with anterior disc displacement without reduction in long term.[31] As such, stabilization splint was prescribed to the patient in this case report. Other splint designs such as pivot splint, hydrostatic splint, and anterior and posterior bite planes had been described in the literatures. However, studies for those splint designs are minimal and long-term studies are required.[14,23]
Clinical reports had published the use of adhesive posterior bite blocks to maintain the splint-induced malocclusion during fixed orthodontic treatment.[32,33] However, it was not considered for our patient as the true malocclusion and the acquired mandibular position were stable over 4-month observation period before the orthodontic treatment.
Hard splints are mostly prescribed for TMD patients. They are either chemically cured or heat processed. It is adjustable with greater longevity and durability than soft splint.[23] On the other hand, soft splints are made from resilient material which has better comfort. However, they are difficult to repair and adjust. Additionally, soft splints cannot create even and stable contact to the opposing dentition.
Dual-laminated stabilization splint is a third variation to hard and soft splints which is considered to be a member of hard acrylic resin group.[23] It carries adjustable hard acrylic resin on the occlusal surface with a soft resilient inner layer which provides good fitting and optimal comfort to the supporting teeth. Therefore, dual-laminated design will become an important trend for the management of TMD.
Specific considerations in orthodontic mechanics in patients with previous temporomandibular disorder
Conclusion
Temporomandibular joint examination by an orthodontist revealed signs and symptoms which led to the referral to a prosthodontist. Preorthodontic splint therapy alleviated signs and symptoms of TMD and revealed the true malocclusion which facilitated orthodontic treatment planning. With the guidance of digital visual treatment objective (VTO) and occlusogram, orthodontic camouflage with miniscrew anchorage with specific considerations in mechanics for patients with previous TMD, composite buildups, and occlusal equilibrium were performed to achieve the planned objectives with good result.
Acknowledgment
We would like to thank Dr. Edmond, H. N. Pow, Clinical Associate Professor in Prosthodontics for his advice on the manuscript.
Declaration of patient consent
The authors certify that they have obtained the appropriate patient consent form. In the form the patient has given her consent for her images and other clinical information to be reported in the journal. The patient understands that her name and initials will not be published and due efforts will be made to conceal her identity, but anonymity cannot be guaranteed.
Financial support and sponsorship
Nil.
Conflicts of interest
There are no conflicts of interest.
References
Prevalence of mandibular dysfunction and relation between malocclusion and mandibular dysfunction in a group of women in Sweden.

Eur J Orthod. 1983;

5

:

115

-

23

.

Association between malocclusion and temporomandibular disorders in orthodontic patients before treatment.

J Orofac Pain. 1993;

7

:

156

-

62

.

The effect of maxillary first premolar extraction and incisor retraction on mandibular position: Testing the central dogma of "functional orthodontics".

Am J Orthod Dentofacial Orthop. 1992;

101

:

4

-

12

.

TMD in relation to malocclusion and orthodontic treatment.

Angle Orthod. 2007;

77

:

542

-

8

.

Orthodontics. Part 7: Fact and fantasy in orthodontics.

Br Dent J. 2004;

196

:

143

-

8

.

Perception of the relationship between TMD and orthodontic treatment among orthodontists.

Dental Press J Orthod. 2015;

20

:

45

-

51

.

The "3-D occlusogram" software.

Am J Orthod Dentofacial Orthop. 1999;

116

:

363

-

8

.

Bioprogressive Therapy.

Denver, Colo:

Rocky Mountain/Orthodontics

;

1979

.

Biomechanics in Orthodontics.

Wollerau, Switzerland:

International Orthodontic School and Services

;

2014

.

Force systems from an ideal arch.

Am J Orthod. 1974;

65

:

270

-

89

.

Orthodontics for treating temporomandibular joint (TMJ) disorders.

Cochrane Database Syst Rev

.

:

CD006541

.

Temporomandibular Disorders (TMDs) and Orthodontic Patient

.

Evaluation of different occlusal splints and counselling in the management of myofascial pain dysfunction.

J Oral Rehabil. 2009;

36

:

79

-

85

.

Occlusal splint therapy.

Ann Dent Spec. 2015;

3

:

100

-

2

.

Occlusal appliance therapy in patients with temporomandibular disorders. A double-blind controlled study in a short-term perspective.

Acta Odontol Scand. 1998;

56

:

122

-

8

.

Use and effectiveness of splint appliance therapy: Review of literature.

Cranio. 1997;

15

:

159

-

66

.

A comparison of the success of 24-hour occlusal splint therapy versus nocturnal occlusal splint therapy in reducing craniomandibular disorders.

J Cranio Disord Winter. 1992;

6

:

64

-

70

.

Conventional and nonoccluding splint therapy compared for patients with myofascial pain dysfunction syndrome.

Gen Dent. 1987;

35

:

502

-

6

.

Splint therapy for the myofascial pain – Dysfunction (MPD) syndrome: A comparative study.

J Am Dent Assoc. 1972;

84

:

624

-

8

.

Effect of a thick palatal appliance on muscular symptoms in craniomandibular disorders: A preliminary study.

Cranio. 2001;

19

:

42

-

7

.

The treatment of painful temporomandibular joint clicking with oral splints: A randomized clinical trial.

J Am Dent Assoc. 2006;

137

:

1108

-

14

.

Efficiency of occlusal appliance therapy in secondary otalgia and temporomandibular disorders.

Acta Odontol Scand. 2002;

60

:

248

-

54

.

Oral appliances in the management of temporomandibular disorders.

Oral Surg Oral Med Oral Pathol Oral Radiol Endod. 2009;

107

:

212

-

23

.

Side effects of stabilization occlusal splints: A report of three cases and literature review.

Cranio. 2010;

28

:

128

-

35

.

Treatment outcome of appliance therapy in temporomandibular disorder patients with myofascial pain after 6 and 12 months.

Acta Odontol Scand. 2004;

62

:

343

-

9

.

Oral health-related quality of life in patients with temporomandibular disorders.

J Oral Facial Pain Headache. 2015;

29

:

231

-

41

.

Can a 10-minute questionnaire identify significant psychological issues in patients with temporomandibular joint disease?

J Oral Maxillofac Surg 2017

Associations in the longitudinal course of body dysmorphic disorder with major depression, obsessive-compulsive disorder, and social phobia.

J Psychiatr Res. 2006;

40

:

360

-

9

.

Integration of mental health screening in the management of patients with temporomandibular disorders.

Br J Oral Maxillofac Surg. 2017;

55

:

594

-

99

.

A short-term evaluation of the effectiveness of stabilization-type occlusal splint therapy for specific symptoms of temporomandibular joint dysfunction syndrome.

J Prosthet Dent. 1989;

61

:

610

-

3

.

Conservative therapy in patients with anterior disc displacement without reduction using 2 common splints: A randomized clinical trial.

J Oral Maxillofac Surg. 2005;

63

:

1295

-

303

.

Treatment of a mandibular functional shift in an adolescent boy with temporomandibular disorder and crossbites.

Am J Orthod Dentofacial Orthop. 2015;

148

:

660

-

73

.

An adult case of TMJ osteoarthrosis treated with splint therapy and the subsequent orthodontic occlusal reconstruction: Adaptive change of the condyle during the treatment.

Am J Orthod Dentofacial Orthop. 2000;

118

:

566

-

71

.
Show Sections